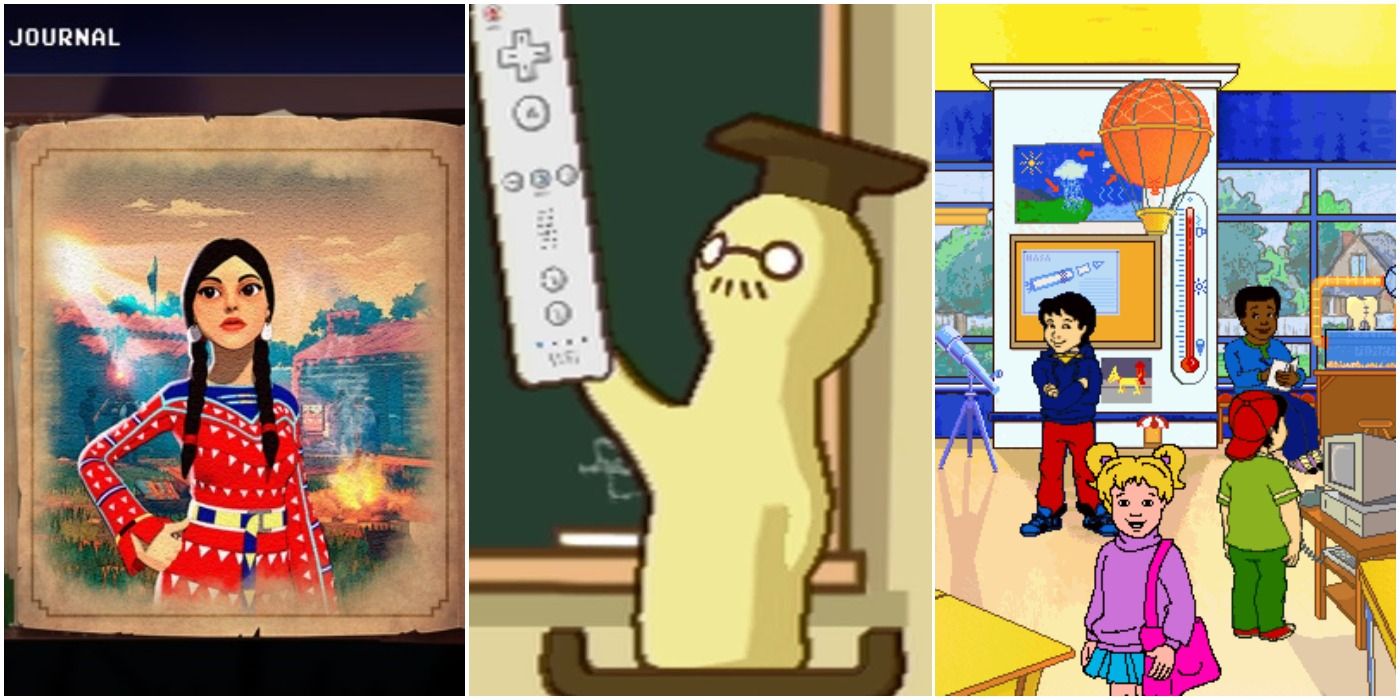 The gaming industry's prominent rise over the last few decades still isn't showing signs of slowing down, and in 2020 the form of media was bigger than sports and movies combined. Moreover, the constant rise of free-to-play games like Fortnite has made gaming a go-to form of entertainment for children.
RELATED: 10 Open-World Games That Are Suitable For Children
Although gaming's main purpose is simply to entertain, there have been numerous releases over the years that aim to educate children in effective and engaging ways. The ten games on this list all find a great balance between being fun to play while also educating in a way that will engross most children.
10

The Magic School Bus Series
The Magic School Bus was a television series that ran in the 90s before returning in 2017 under the name The Magic School Bus Rides Again. 
However, the franchise isn't just known for its TV appearances, as the show transitioned into the gaming industry on numerous occasions throughout the late 90s and early 2000s with games like The Magic School Bus Explores the Solar System and The Magic School Bus Explores the Rainforest. As the names suggest, each game takes an educational look at various topics, with a great balance between fun and learning that makes the series a classic in the educational genre.
9

Prodigy
Of all the games on this list, Prodigy does arguably the best job of encouraging kids to continue playing and learning. This is accomplished by the game's use of common gaming mechanics, in particular leveling up.
Prodigy puts players in a fantasy world and tasks them with embarking on adventures that will require them to solve maths questions. Maths can often be one of the toughest subjects to make interesting for children, making Prodigy an excellent option for teaching the subject.
8

Wordscapes
Wordscapes is a great choice for when children just want a bit of light entertainment. The game gives players a crossword puzzle to solve, though clues aren't given via questions or abstract hints like most crosswords.
Instead, players are given a selection of letters that they must combine to find words that will fit in the spaces. Consequently, Wordscapes is a great way to teach words and spelling, while the in-game dictionary will help expand the player's vocabulary.
7

Democracy 3
Democracy 3 is ideal for older children who are starting to show an interest in politics. The game doesn't take its time getting started, throwing players straight into the role of President or Prime Minister of their chosen country. The player will then be tasked with solving real-world problems, such as balancing budgets, keeping crime levels down, and making law changes.
RELATED: 10 Best PSVR Games For Children
Although the game touches on heavy and complex subjects, it is presented in an accessible and easy-to-understand manner, making it a great way to get older children to gain an understanding of politics.
6

Scribblenauts Unlimited
Scribblenauts Unlimited was initially released in 2012 on Nintendo 3DS and Wii U before coming to PC, iOS, Android, Nintendo Switch, PS4, and Xbox One in the years that followed.
The game is the fourth entry in the Scribblenauts franchise, which began in 2009 and stood out in the sandbox genre with its emphasis on puzzle-solving. The puzzles will improve the child's cognitive skills, as the player can summon a ton of different objects and apply adjectives to them in hopes of completing the different tasks.
5

The Oregon Trail Series
The Oregon Trail series began all the back in 1971 and has had a plethora of entries since. The games were specifically designed for teaching 8th-grade children, making it a great educational pick.
As the name suggests, the games take players back to the early 1800s, when the Oregon Trail was in use. The player takes the role of a wagon leader, who must safely guide their party from Independence, Missouri, to Willamette Valley while avoiding numerous hazards and keeping their party safe from hunger and diseases.
4

Endless Ocean
Endless Ocean is a great choice for anyone wanting to learn about marine biology. The game offers minimal limitations to the player, letting them explore the ocean around them at their own pace.
While down in the sea, players will encounter a huge variety of sea life that will be accurately named and categorized once players discover them. A sequel, titled Endless Ocean 2: Adventures of the Deep, was released in 2010 and is also worth checking out.
3

National Geographic Challenge
National Geographic Challenge teaches geography to players in a classic gameshow format. Players are predominantly provided with general questions, pictures, or video clips that will test their geographical knowledge.
RELATED: 10 Role-Playing Games For Casual Gamers
National Geographic Challenge has a handful of different game modes, including a campaign-like explorer mode that will take the player around the world, asking them questions about a variety of subjects involving numerous different countries.
2

Civilization VI
It's worth pointing out straight away that Civilization VI leans far more towards entertainment than education. However, this has its benefits, as it teaches players in a way that never feels like heavy-handed education, making it a great game to trick children into learning.
Civilization VI takes players to the Ancient Era of 4000 BC and tasks them with building an entire civilization through the ages until 2050AD at the latest. In this time, players will build cities, research topics, build wonders, and more. The research subjects, wonders, world leaders, and city names are historically accurate and will consequently teach players a ton of history on each playthrough.
1

Big Brain Academy
Big Brain Academy was originally released in Japan back in 2005, before releasing in the rest of the world the following year. The Nintendo DS game is centered around the concept of measuring the player's brain mass.
Big Brain Academy gives players a set of questions to ask and problems to solve, such as color coordination, shape matching, image identifying, and more, before scoring their performance. A sequel was released on the Nintendo Wii in 2007 titled Big Brain Academy: Wii Degree, which is also worth considering.
NEXT: 10 RPGs Whose Historical Accuracy Would Surprise You

Next
Resident Evil Village: 8 Fan Theories That Turned Out To Be True

About The Author


This news is republished from another source. You can check the original article here