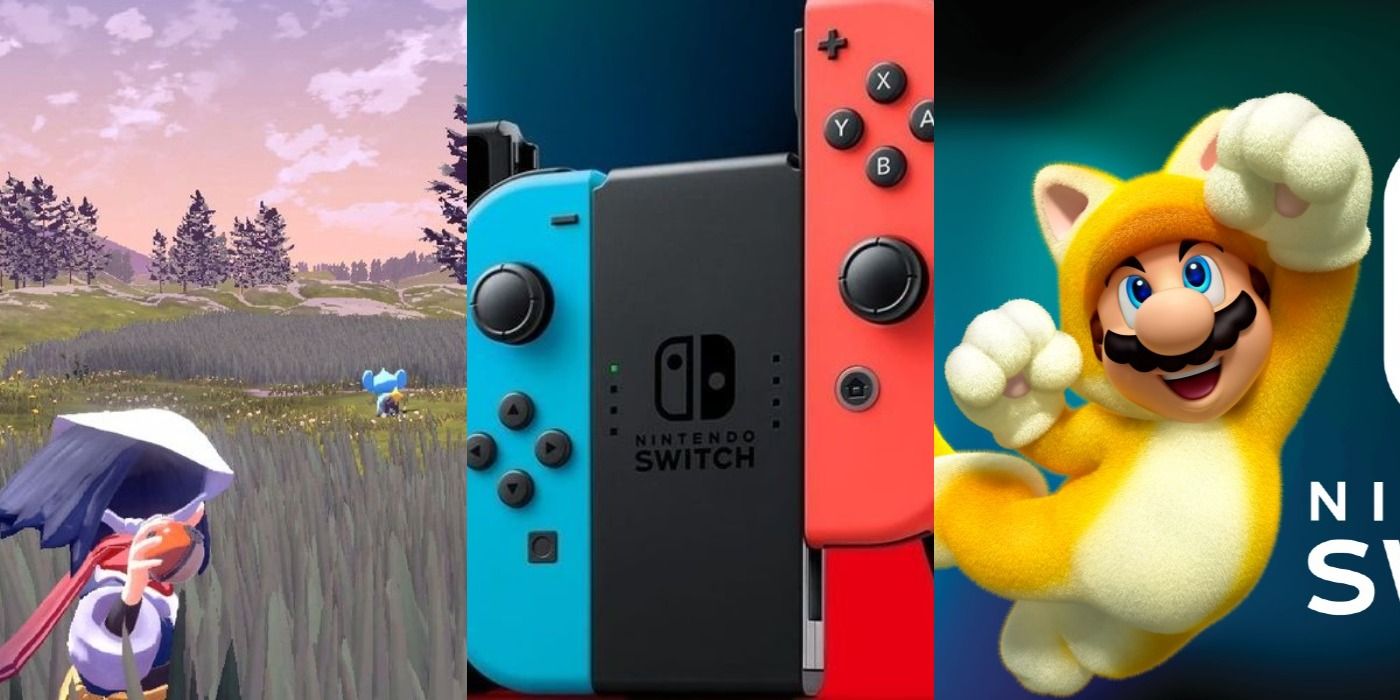 It's been a pretty big few years for Nintendo, who launched the Switch to both critical acclaim and commercial success. Known partially for its co-op and party games, as well as its diverse set of ways that players can use the Switch, the console grabbed attention with its exclusive titles and inventive mechanics.
RELATED: 10 Hidden Gems On Nintendo Switch That Released In 2021 (So Far)
There's been a number of rumors for some time now that a new Nintendo Switch could be in the works – one that improves upon its predecessor and brings Nintendo into the next generation of consoles. It would be a big step for the company and one that fans are eager to hear about as more details slowly drop about the potential launch.
10

It's Name
There's actually a lot of options as to what the new console could be called. There's absolutely no confirmation at this stage about what might be chosen, but the Nintendo Switch 2 is, of course, a possibility.
The idea of the Super Nintendo Switch has also been picking up momentum in recent weeks as well. However, the most likely name to be chosen by Nintendo is the Switch Pro, which would match its naming pattern when looking at the previously released Switch Lite.
9

New Features
The Nintendo Switch boasts a number of features, from its unique controllers to its various gameplay types. Of course, with a new Switch comes new features and Nintendo may be looking to upgrade some existing features while bringing in some new ideas.
The screen style and display type will likely be changed and be talked about further later. There's also the possibility of a new sound system, which performs better with some of the latest next-gen titles. There could also be a change with the Variable Refresh Rate and some other minor adjustments to the HDMI sockets.
8

E3 News
There's a lot of expected announcements from Nintendo at E3, since they have confirmed that they will be taking part in the event. They look like they will have quite a large presence at E3 2021, including bringing a number of new titles to the table.
RELATED: 10 Best Short & Sweet Switch Games, Ranked By Metacritic
However, rumors are circulating that they may actually be looking to launch the new Nintendo Switch at the event. It could be the first chance that fans get to look at the kinds of features on offer and what's different about the Nintendo product.
7

Console Comparisons
There's been a number of comparisons made to previously released consoles from Xbox and PlayStation, which have been used to describe what can be expected from the new Nintendo Switch. The chances are this isn't a complete overhaul, like a PS4 to a PS5 or a Wii U to a Switch.
This appears to be a product designed as a slight step up from the traditional console. For instance, the Xbox One X is an example of a console that achieved a similar thing, upgrading its systems but not moving to next-gen like the Xbox Series X did.
6

Accessory Crossovers
Much like other Nintendo consoles, the Switch is known for its wide range of accessories, which improve the gameplay experience. From the Joy-Con wheel to a zapper, there's a variety of products that can be bought separately from the Switch.
With the new Switch following a similar model, it's likely that there will be a number of crossovers when it comes to the use of accessories. It would likely put off players that they need to re-buy all of the same items and therefore it's probable that the same items can be used on the new Switch.
5

Bigger Screen
There have been some leaked plans, which suggest that one of the things that could be changing about the Nintendo Switch is the size of its screen. One of the revolutionary things about the console is that it can be used as a handheld device or be linked to another screen.
RELATED: Nintendo Switch: 10 Best Accessories For Handheld Mode
However, there have been complaints that the screen is too small, making some games harder to play. Reportedly, Nintendo is looking at expanding the display screen to a much larger 7-inch panel instead to account for this issue in the previous design.
4

4K Capabilities
The current Nintendo Switch runs at a high resolution, but the same plans that have leaked also reveal that the new Switch might also be upgrading to a higher quality of picture. The 4K resolution, which has been promised will also have some backward compatibility features.
It may even be able to upgrade older titles to a 4K picture and work alongside next-gen titles, assuring that the quality of the picture will be protected on the device. It's a great new feature that fans will surely be happy about as Nintendo continues to evolve.
3

Launch Titles
There are a number of upcoming titles which could launch alongside the new Switch. E3 may give some better clues as to what could be the main game that players will want to get their hands on when the new console hits shelves.
Huge IP, like Star Wars Hunters, would likely be an option as a Switch exclusive. The latest Pokémon titles, such as Legends Of Arceus, are also an option that Nintendo could go with. Alternatively, it may be a game that is yet to be announced.
2

Exclusives
It's unlikely that Nintendo will create any exclusive titles for the latest Switch. Once again, like the Xbox One S, there were no games that were solely made on the latest iteration of the console. Until Nintendo revamps the Switch, it is likely that there will be games playable on both versions of the console.
This isn't to say that this can't be changed, but everything is pointing to this being a revamp rather than a complete reinvention of the Switch. The mechanics will be similar enough to allow for complete backward compatibility as well. However, it's not certain whether the new Switch will be compatible with older Nintendo games.
1

Release Date
It was considered to be a project that could be released in 2020 at some point, but due to the global pandemic, changes in the gaming industry were made and these plans were likely scrapped. However, 2021 is looking a lot more promising for this new console.
Reports suggest that Nintendo may indeed have it in their plans to release the new Switch sometime this year. E3 may serve as a launchpad for the product, with summer or the festive period at the end of the year looking like two likely release options.
NEXT: 10 Best Relaxing Switch Games For The Ultimate Unwind Time

Next
Metal Gear: 10 Solid Snake Cosplay That Are Too Good

About The Author


This news is republished from another source. You can check the original article here