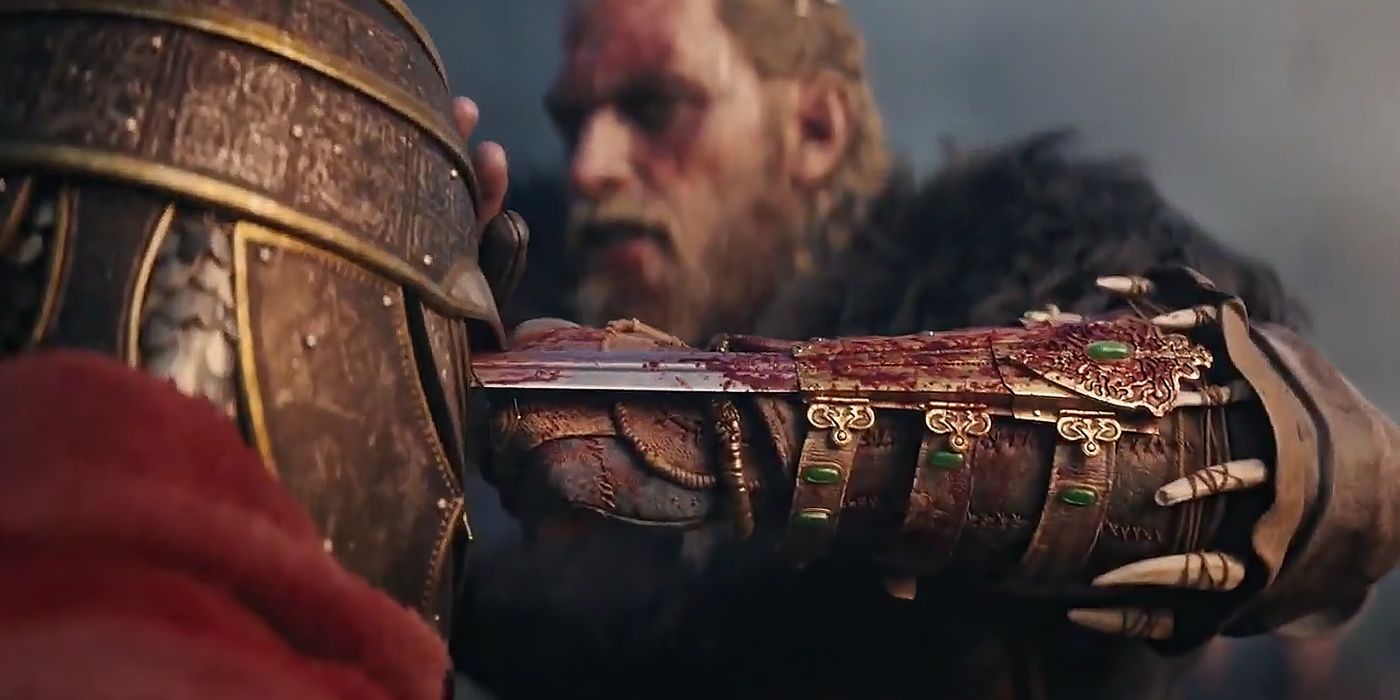 Assassin's Creed Valhalla's Title Update 1.2.1 will go live on April 27, debuting three extra skills, a new cinematic finishers option, and bug fixes.
Ubisoft will deploy Title Update 1.2.1 for Assassin's Creed Valhalla on April 27, introducing three additional skills, the ability to toggle off cinematic finishers, and a whole host of bug fixes. News of the next major patch follows on the heels of developer Ubisoft Montréal's recent promise to improve the quality of AC Valhalla's future Title Updates.
Notably, an AC Valhalla patch that went live in March for the Ostara Festival gave way to a game-breaking bug that halted the progression of numerous players. The glitch wouldn't allow users to explore the Ravensthorpe settlement, which serves as Eivor's base of operations and the hub wherein festivals and other in-game events take place. As a result, the development crew had to pull the plug on the Ostara Festival and extend its stay following lengthy downtime and a fix. Hopes are high that such egregious issues won't plague future updates.
Continue scrolling to keep reading
Click the button below to start this article in quick view.
Related: Assassin's Creed Valhalla Overhauls Reda's Shop Based On Player Feedback
After launching several hotfixes earlier this month, all of which tackled some of Assassin's Creed Valhalla's broken quests, publisher Ubisoft has announced that Title Update 1.2.1 will hit all platforms this week on Tuesday, April 27. The patch is scheduled to officially go live in the morning at 8:00 am ET, introducing three new skills, dozens of bug fixes, and more. One skill, Cold Rage, allows Eivor to ignore hit interruptions while landing regular melee attacks in succession. The Eye of the North ability prevents the character from flinching if hit while aiming a bow. Finally, Intense Rage sees Eivor ignoring hit interruptions whenever the player performs their next off-hand parry or special attack.
With regards to enhancements, players can most notably expect Title Update 1.2.1 to usher in a gameplay menu option that allows for the toggling of the cinematic camera during finisher moves. A few balancing issues are incoming as well; for example, the duration of AC Valhalla's Battlecry ability will receive an extension. Plus, fans should look forward to myriad bug fixes that address issues concerning quests, activities, animations, River Raids, combat, and AI.
These various fixes and changes will hopefully improve the overall experience. Meanwhile, the three additional skills should give players something to push towards as the wait for the first paid DLC expansion persists. Ubisoft originally planned to launch the DLC in question, Wrath of the Druids, on April 29. The development crew's goal of further refining the experience pushed the expansion's release to May 13.
It remains to be seen if and how this will affect the rollout of The Siege of Paris content. Previously, Ubisoft merely confirmed a summer release window for the second expansion, meaning that a potential delay internally may not change much as far as the public is concerned.
Next: Everything Assassin's Creed Valhalla's Wrath Of The Druids Expansion Includes
Assassin's Creed Valhalla is available on PC, PS4, PS5, Xbox One, and Xbox Series X|S.
Source: Ubisoft
Mass Effect 2: Where to Find Dr. Chakwas' Brandy (& What It's For)


This news is republished from another source. You can check the original article here