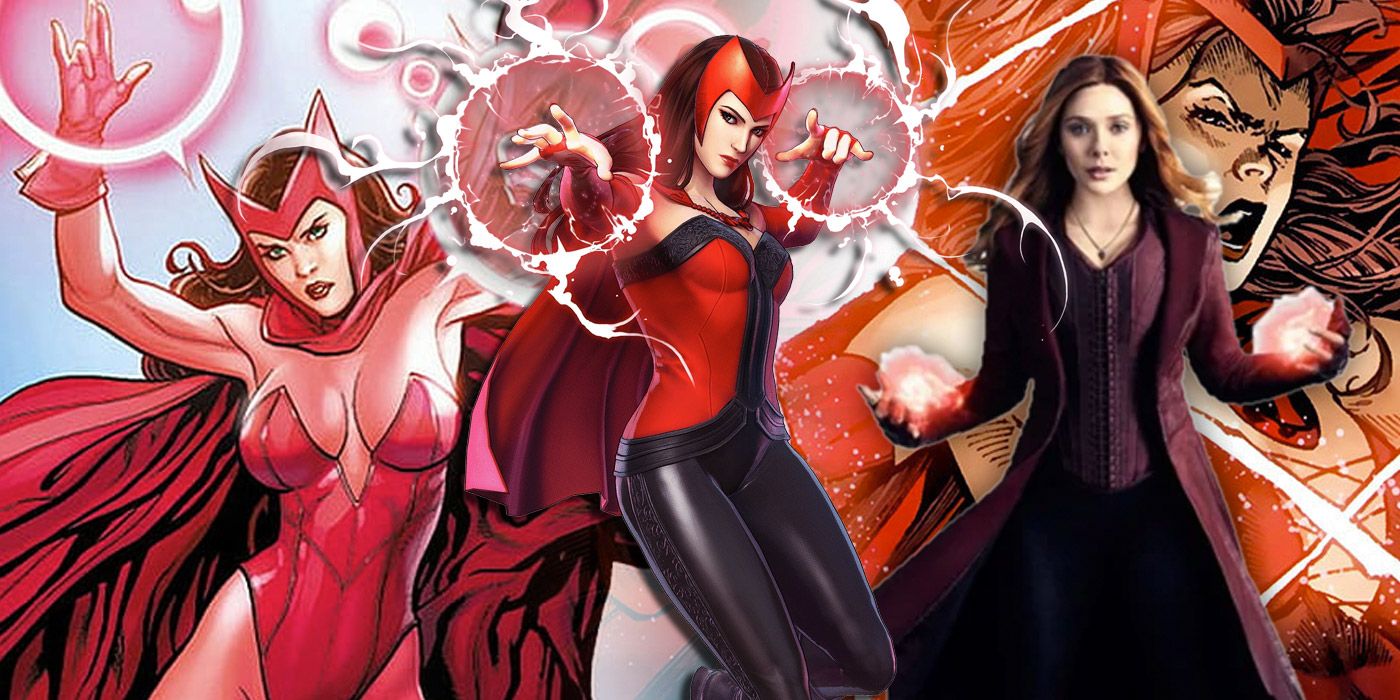 Scarlet Witch continues to grow in popularity on the big screen, but she has been featured in Marvel video games for well over two decades.
Scarlet Witch has been a powerhouse for the Marvel universe for years. The incredibly powerful mutant has featured across comics, movies, shows, and games since her debut almost six decades ago. Her recent interpretation in the Marvel Cinematic Universe has launched the character's fame even higher, but the big screen was not her first major role outside of comics.
Scarlet Witch has appeared in video games for decades. Starting in the mid-90s she has either been Easter eggs, an NPC, or featured as a playable character in a growing list of Marvel titles. A few early titles; Marvel Super Heroes, X-Men Legends 2: Rise of Apocalypse, and Spider-Man: Battle for New York, all featured Scarlet Witch in varying capacities.
For the 1996 Marvel Super Heroes, the infamous mutant was more of an Easter egg than an official character. While she was featured in the game, it was as a statue on Thanos' stage instead of as an NPC or someone playable. X-Men Legends 2 allowed for Scarlet Witch to be playable in 2005, but by the time fans were able to see her in Spider-Man: Battle for New York, she was an NPC again.
Scarlet Witch Over The Past Decade

After the mid-aughts, Scarlet Witch's presence in video games starts to solidify. Following the release of Marvel Super Hero Squad: Infinity Gauntlet in 2010, she continues to be a playable character in the next two Marvel Super Hero Squad games: Marvel Super Hero Squad: Online and Marvel Super Hero Squad: Comic Combat. This streak of playability is only interrupted once with an appearance in Doctor Strange's ending in Marvel vs. Capcom 3.
Over the next few years, Scarlet Witch would feature in six games before her major MCU debut in Avengers: Age of Ultron. The character was playable in Marvel: Avengers Alliance, Marvel: Avengers Battle for Earth, the 2013 MMORPG Marvel Heroes, Marvel Avengers Alliance Tactics, Marvel Puzzle Quest, and Marvel: Contest of Champions.
The downside of these games, and Scarlet Witch's appearance in them, is their limited scale and life. Both the MMORPG Marvel Heroes and the Marvel: Avengers games have been discontinued. While their lifespans were short, they also helped to pave the way for other games. Marvel: Contest of Champions and Marvel: Future Fight both feature Scarlet Witch as a playable character and continue to be operational. These mobile games were also joined by the MOBA MARVEL Super War in 2019, which features her.
Moving into more recent console games, Scarlet Witch has been playable in a couple of major titles in the past few years. LEGO Marvel's Avengers featured her in its incredible roster. The gameplay also featured interactions that fans of the movies could identify from her appearance in Age of Ultron.
On top of her LEGO appearance, Scarlet Witch was also featured in Marvel Ultimate Alliance 3: The Black Order. The highly anticipated game had fans waiting for 10 years, but saw a decent amount of success as a Nintendo Switch exclusive. With over a million copies sold, a ton of fans were able to experience the hack-and-slash combat and superhero team-ups.
With how popular Marvel Ultimate Alliance 3 was, and new Marvel games like Marvel's Avengers and Marvel's Guardians of the Galaxy, hopefully Scarlet Witch will continue to make appearances. She has featured in important storylines in the comics, and her MCU prominence continues to grow. The next couple of years could be a great time to feature her in more Marvel games, including potentially as a main character.
This news is republished from another source. You can check the original article here
Follow us on Facebook