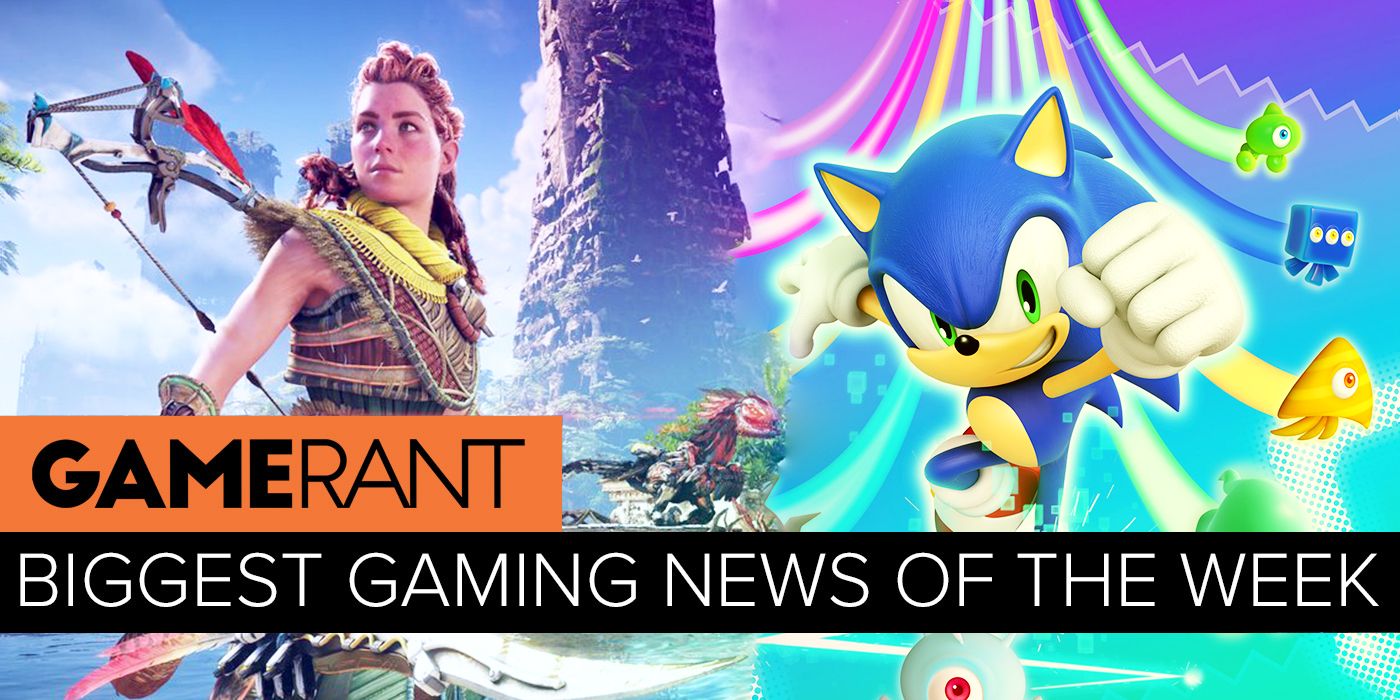 This week unofficially marks the beginning of E3 season in 2021, despite being an entirely digital show, as a ton of gameplay reveals were unveiled this week. Game Rant has compiled some of the biggest gaming news stories from this past week together into a concise post for fans and enthusiasts to stay up to date on the most important events in the industry per week. Highlighting the most relevant stories, this list is not inherently and totally objective, and will not contain every news story this week. Rather, this is intended for gaming fans who want a quick rundown on the largest/most impactful stories that occurred in the last week in games.
In this week's recap of gaming news, some of the heavy-hitting upcoming games saw significant gameplay reveals; including the likes of Horizon Forbidden West, Far Cry 6, as well as the long-awaited Dying Light 2. Sonic the Hedgehog celebrated the franchise's 30th anniversary with a ton of game reveals, including the next mainline entry. Similarly, Dragon Quest had its 35th anniversary, teasing several new exciting projects including the next mainline entry in the JRPG series as well. All that and more in this week's roundup of video game news.
RELATED: The Upset About Aloy's Appearance in Horizon Forbidden West Explained
Gameplay Reveal for Horizon Forbidden West
https://www.youtube.com/watch?v=wQATS4HOxdo?feature=oembed
Building off the momentum from Ratchet & Clank: Rift Apart's State of Play, and upcoming release, another big PlayStation-exclusive is jumping into the spotlight. Guerrilla Games' sequel Horizon Forbidden West finally received its first gameplay reveal after being unveiled at the PS5 reveal event last summer. Players finally got an in-depth gameplay reveal of the Breath of the Wild-esque open-world adventure coming to PS5 players later this year, though with no official release date yet.
Fans got a preview into some early exploration, combat, and short but sweet narrative moments in the ruins of San Francisco. Among some new features like overhauled melee and human combat, underwater exploration, as well as gliding and zip-lining between certain spots, Horizon Forbidden West showed off a ton of new things on offer in the sequel.
Ubisoft's Reveal of the World of Yara In Far Cry 6
On the Ubisoft side, Far Cry 6 had a similarly much-anticipated gameplay reveal this week. Fans finally got a glimpse at what the Yaran Revolution will be alike, alongside more in-depth moments with protagonist Dani Rojas, as well as the much-hyped villain Anton Castillo. Players will be able to employ multiple guerilla-style tactics through makeshift weapons, mingling with society and soldiers undercover, or under disguise to spring a trap on Castillo's army.
The game also showed off a few potential animal buddies, like a seemingly ferocious pet alligator and the much-loved and very cute Chorizo, the dog. Among other new features, the game received an official release date of October 7, 2021.
Dying Light 2's Return As "Stay Human"
https://www.youtube.com/watch?v=UwJAAy7tPhE?feature=oembed
Speaking of much-anticipated, the delayed Dying Light 2 resurfaced this week, sporting new gameplay and a revised subtitle of "Stay Human." Players got a new glimpse into some of the trials and tribulations of the City, and dealing with the infected during the day and at night. The setting looks just as massive, with the new trailer once again showing off the various ways narrative decisions can affect the larger world around them.
Some hints of what the night brings were teased as well, including some new and potentially far more dangerous zombie types. Lastly, Dying Light 2: Stay Human received an official release date of December 7, 2021, after numerous delays prior.
Game Reveals From Sonic the Hedgehog's 30th Anniversary Stream
https://www.youtube.com/watch?v=lwjPEcWU5Fc?feature=oembed
After a silent year of content that was postponed by the Covid-19 pandemic, Sega had several big announcements for the entire Sonic the Hedgehog franchise's 30th anniversary. First and foremost, Sega and Sonic Team confirmed a brand new Sonic the Hedgehog project is in development, with a vague release window of 2022. According to a resurfaced leak, the new title is supposedly called "Sonic Rangers," however this remains unconfirmed officially.
Additionally, a slew of game announcements came throughout the conference: Sonic Colors is receiving an updated remaster in Sonic Colors: Ultimate, Sonic Origins collects all of the 2D classic Sonic games into one cohesive re-release, as well as new updates to Sonic Forces: Speed Battle throughout the year.
RELATED: What is Sonic 2022 Teasing?
All Dragon Quest 35th Anniversary Reveals
Similar to Sonic, the Dragon Quest franchise also had a slew of announcements to make for the JRPG franchise's 35th anniversary. First and foremost, the continuation of the series comes with Dragon Quest 12: The Flames of Fate, coming at some point in the future. The game appears to take on a darker tone compared to previous entries, and according to series creator Yuji Horii, will also make significant changes to the series' turn-based battle system.
Beyond the next entry, another surprising announcement was the "HD-2D" remake of Dragon Quest 3, the graphical design method utilized in Octopath Traveler. Dragon Quest 10 is receiving another re-release with an online and offline version in Japan only. Dragon Quest Treasures, a Dragon Quest 11 prequel following Erik, is a "treasure hunting" RPG with non-traditional elements coming soon. Lastly, a free-to-play, Dragon Quest Keshi Keshi, with a graffiti-themed world infused with the franchise.
Xbox-Bethesda Joint Showcase Confirmed By Microsoft
After a rumor spread expressing the same, Microsoft has confirmed there will be an Xbox-Bethesda joint showcase for E3 this year. Happening on June 13, during the same week as E3 2021, the two companies that usually host separate conferences during E3 will join together this year. Ever since the Microsoft-Bethesda/ZeniMax acquisition was confirmed earlier this year, future Bethesda games and events will be under the Microsoft banner.
MORE: The Elder Scrolls Fans Should Keep Their Expectations in Check for E3
Red Dead Redemption 2 Player Finds Gory Detail
About The Author


This news is republished from another source. You can check the original article here