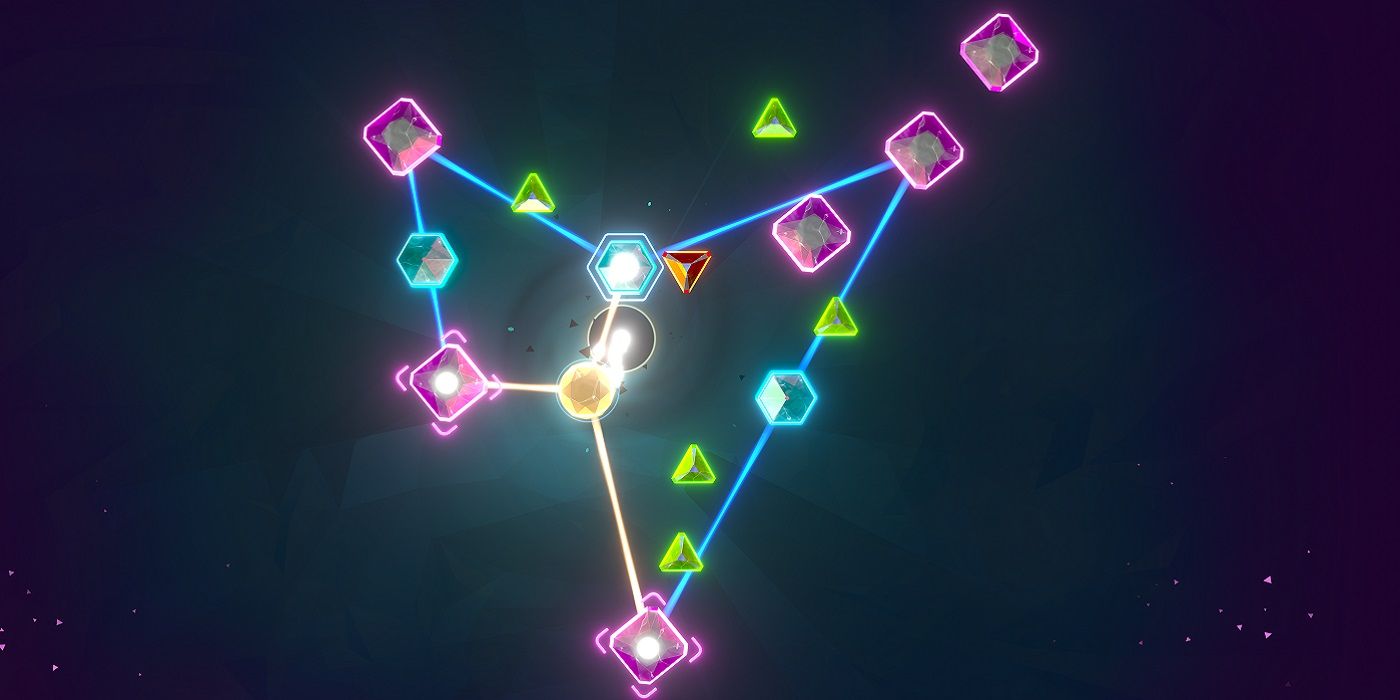 Triversal is a relaxing puzzle game about linking tethers together, moving a glowing orb, and landing right in the center of a black hole.
Phantom Compass, the developer of pinball RPG Rollers of the Realm, has returned with Triversal, a neon-drenched puzzle game about tethering together gems and trippy black holes that's now available on Steam. Triversal joins a growing number laid-back puzzle games with hundreds of individual challenges to chip away at over time. The genre has thrived on mobile devices, where simple touch controls and the convenience of playing on a phone make them a daily staple for many who don't consider themselves gamers in the traditional sense, but some continue to give PC players something to idle with.
While typically a mobile haunt, there are plenty of puzzle games on PC that see a lot of play among the audiences that go through levels in a mobile version of Bejeweled on the regular. This style of puzzle game hit its peak thanks to that game's developer Popcap and its suite of casual hits. From Peggle to Chuzzle, there was a certain time years ago where every desktop PC had at least one puzzling experience installed and running in the background. As smartphones took over, these types of games migrated to Android and iOS as PC puzzlers like Portal took over the genre.
In that sense, Triversal is a bit of a throwback, offering a unique puzzle experience on Steam for $12, starting today. Playing is as easy as linking gems together with tethers and watching them move, but it also promises challenge as players acclimate to the deceptively simple mechanic. The goal is to get the glowing orb directly over the black hole (like the opposite of Donut County's hole-driven gameplay). Of course, that gets more challenging as things progress. Neon graphics and a relaxing soundtrack enhance Triversal's pick-up-and-play appeal.
As a full PC game, Triversal is designed to take advantage of everything Steam has to offer, including Remote Play functionality. With this feature, puzzling veterans can use the touch controls they might be used to on their phone, tablet, or touchscreen device. The game also supports the traditional keyboard and mouse setups in addition to gamepads, leaving no option behind.
Developer Phantom Compass has also introduced a novel feature it calls Streamer Assist for Twitch streamers who want to share their Triversal gameplay with viewers. Toggling the feature on labels every option on the playfield with a number, letting chat users identify where the streamer should place the next tether. It's a function that doesn't rely on connecting to any service, meaning it will work whether the player streams on Twitch, YouTube, or even to a smaller community over Discord.
It's cool to see a puzzle game like Triversal debut on PC over mobile, although it seems like an obvious fit on either platform. It's also nice to see a puzzler that doesn't immediately recall a popular format, as the world has far too many setups for match-three and Tetris-style falling block action as it is. Triversal isn't going to set the world on fire, but anyone who appreciates a new perspective on the genre and a 1980s vibe should will likely find themselves attracted to the newly launched title.
Triversal is available now on PC.
This news is republished from another source. You can check the original article here
Follow us on Facebook