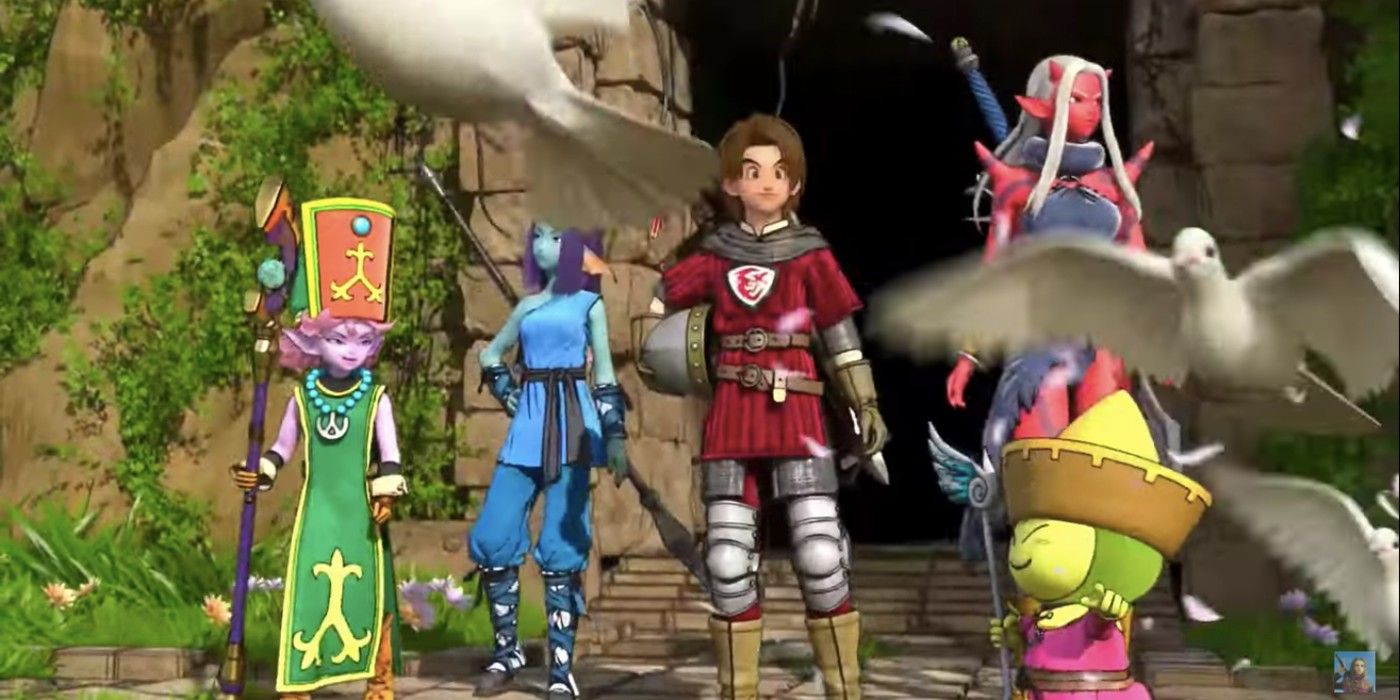 Dragon Quest X Online has been confirmed to not be making an overseas release anytime soon, thanks to a recent announcement stream from Square Enix.
In the recent anniversary stream for the 35th year for the Dragon Quest franchise, it was revealed that there are still no plans for a Western release for Dragon Quest X Online, the massively multiplayer online game in the series. According to the developers at Square Enix, the company has still not made the step towards moving Dragon Quest X Online overseas despite its continued development and positive reception in Japan.
Dragon Quest X Online was first released on the Nintendo Wii in 2012. The game is the franchise's only MMORPG, with most titles in the series being strictly single-player experiences. Over the years, the game has been ported to the Wii U, Windows PC, PS4, Nintendo Switch, Android, iOS, and the Nintendo 3DS. While all of these ports support cross-platform play, the developers have only released Dragon Quest in Japan, besides a discontinued Windows version in Chinese. Even in 2021, the game is region locked to Japan with IP blocking software. 
Continue scrolling to keep reading
Click the button below to start this article in quick view.
Related: The Dragon Quest HD-2D Remakes Should Have Started With DQ4
In a live stream celebrating the anniversary of Dragon Quest from the Square Enix studio yesterday, various new titles and expansions for the Dragon Quest franchise were announced. Amongst these announcements were a whole bunch of teasers for Dragon Quest X Online, including the news that Version 6 will be coming sometime in 2021. An offline edition of Dragon Quest X Online will also be released at some point, featuring a chibi-styled edition of the game that can be enjoyed offline. Unfortunately, during the stream, it was also made clear that the game will not be getting an overseas release. Twitter user Ian Walker points out a small annotation on the screen stating "there are no plans for a worldwide release" following the announcement of Version 6 going forward.
Back in 2016, Square Enix stated that it would make efforts to release the Dragon Quest MMORPG overseas if enough fans demanded the release. This was the same year where the Chinese language version of the game was released on PC. This Chinese edition was shut down in May 2019. 
A remake of the original Dragon Quest III was also announced during the stream, titled Dragon Quest III HD-2D Remake. The remake is being led by the director of Octopath Traveler, Keisuke Miyauchi, who is bringing the same stylized graphics to the game. Also announced was a mysterious title for the 12th Dragon Quest game, Dragon Quest 12: The Flames Of Fate. While these are all great titles to look forward to, Western Dragon Quest fans are still understandably annoyed at the lack of release for overseas audiences.
Next: Dragon Quest 12 Needs A Simultaneous Global Release
Source: Square Enix, Ian Walker/Twitter
Pokémon Used To Be Way More Violent (& Why That Changed)
About The Author


This news is republished from another source. You can check the original article here