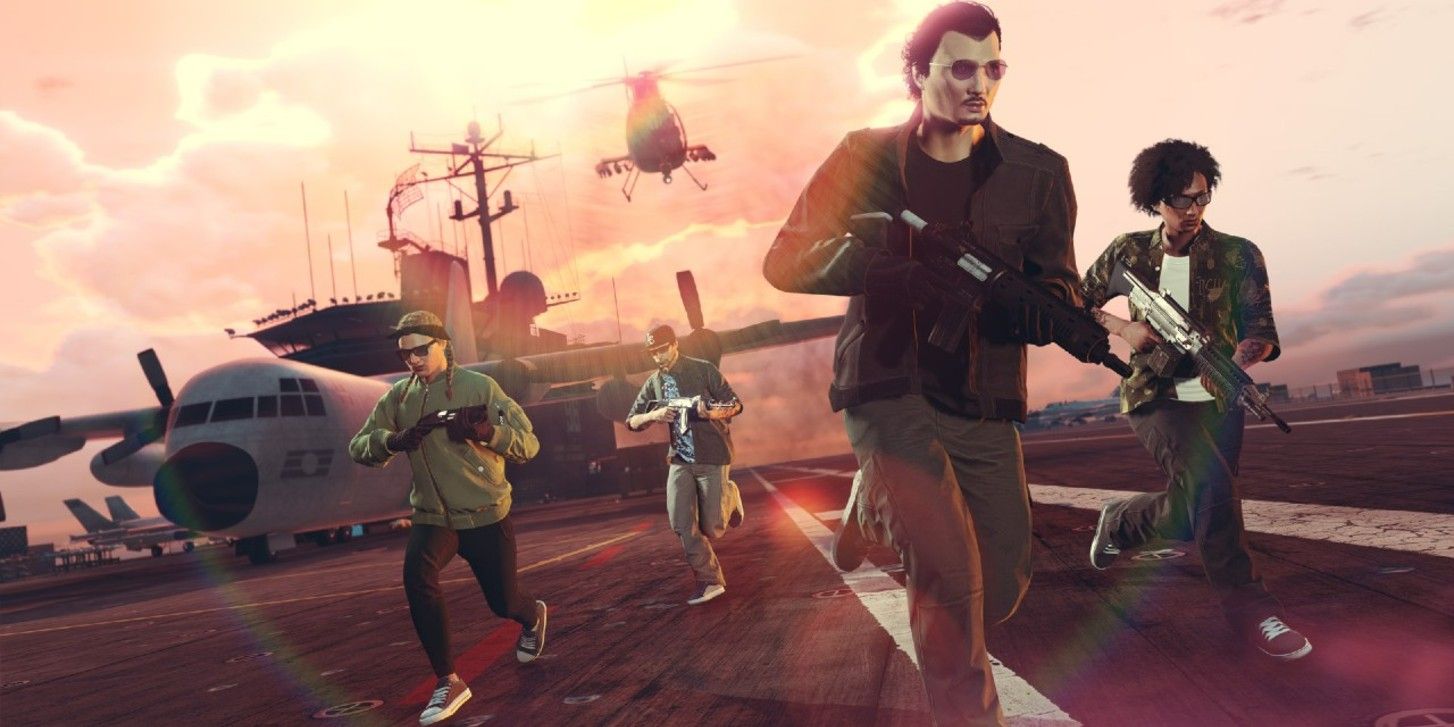 A GTA Online fan and Reddit user has shared a video of an exploit showing them and a friend easily out-racing a car using just two bicycles.
Savvy GTA Online players have discovered an exploit that allows gamers to out-race cars using the humble bicycle. Rockstar Games' online addition to GTA 5 offers endless creativity with its gameplay, and players have discovered many "cheats" and exploits since its 2013 launch. Recently, one GTA Online player even used trees to survive an encounter with the heavily-armored four-door SUV known as Nightshark.
GTA Online is an action-adventure multiplayer that allows gamers to explore San Andreas causing as much chaos as possible as they climb the criminal ranks. It offers the chance for GTA 5 fans to continue their misdemeanors in a huge open-world sandbox, stealing helicopters, competing in street races, and taking part in heists. Despite its age, GTA Online is still immensely popular thanks to its ongoing support from Rockstar. The game has seen many updates since it first launched, introducing everything from new events and challenges to the GTA Online Diamond Casino.
Related: GTA Online Player Makes It Rain As a "Mermaid" In Ridiculous Glitch
A Reddit user and GTA Online fan has impressed players with an exploit that allows bikes to outpace cars. kreamycheeze shared a video of them and a friend easily beating the car with a simple trick. By combining the power of both bikes and using one to help propel the other forward, the clever GTA players were able to speed past the vehicle with ease. The hilarious video has taken Reddit by storm, receiving close to 40k upvotes at the time of writing, with players commending kreamycheeze on their ingenuity. For any GTA Online players looking to repeat the maneuver, user AlphaChipWasTaken explained the exploit:
"In GTA wheels making collision gives you a speed boost. So say you run up on a curb and back down it will give you a slight speed increase and the wheel goes into the air and then back on a surface. This is known as curb boosting and is used in pretty much every race server or rp server with racing.

"So on bikes, you can hop over and over and stack these boosts into way more speed, but they seem to have found a way to lock their wheels up where they're continuously colliding, which multiplies the boost to insane levels."
GTA Online exploits are still discovered regularly as players find new ways to manipulate in-game mechanics. Despite the popularity of GTA Online, anyone playing on older consoles will be out of luck later this year. Rockstar Games has confirmed GTA Online will be shut down on Xbox 360 and PlayStation 3 consoles as of December 16, 2021. It's not clear just how many gamers are using their older consoles to delve into the online mayhem, but it's certainly a blow.
While support will end for older consoles, GTA 5 and GTA Online are gearing up for release on the new-generation PS5 and Xbox Series X/S consoles. GTA 5 will come to new consoles this November, with Online getting a standalone version. The new release could see an increase in GTA Online player numbers, with Rockstar Games expected to continue support for the game with updates and new content. Rumors of GTA 6 are still rife, but with Rockstar's attention on GTA Online, it could be years until GTA 6 releases.
GTA 5 is available now on PS3, Xbox 360, PC, PS4, and Xbox One. The games will come to PS5 and Xbox Series X/S on November 11 2021.
Source: kreamycheeze/Reddit
This news is republished from another source. You can check the original article here