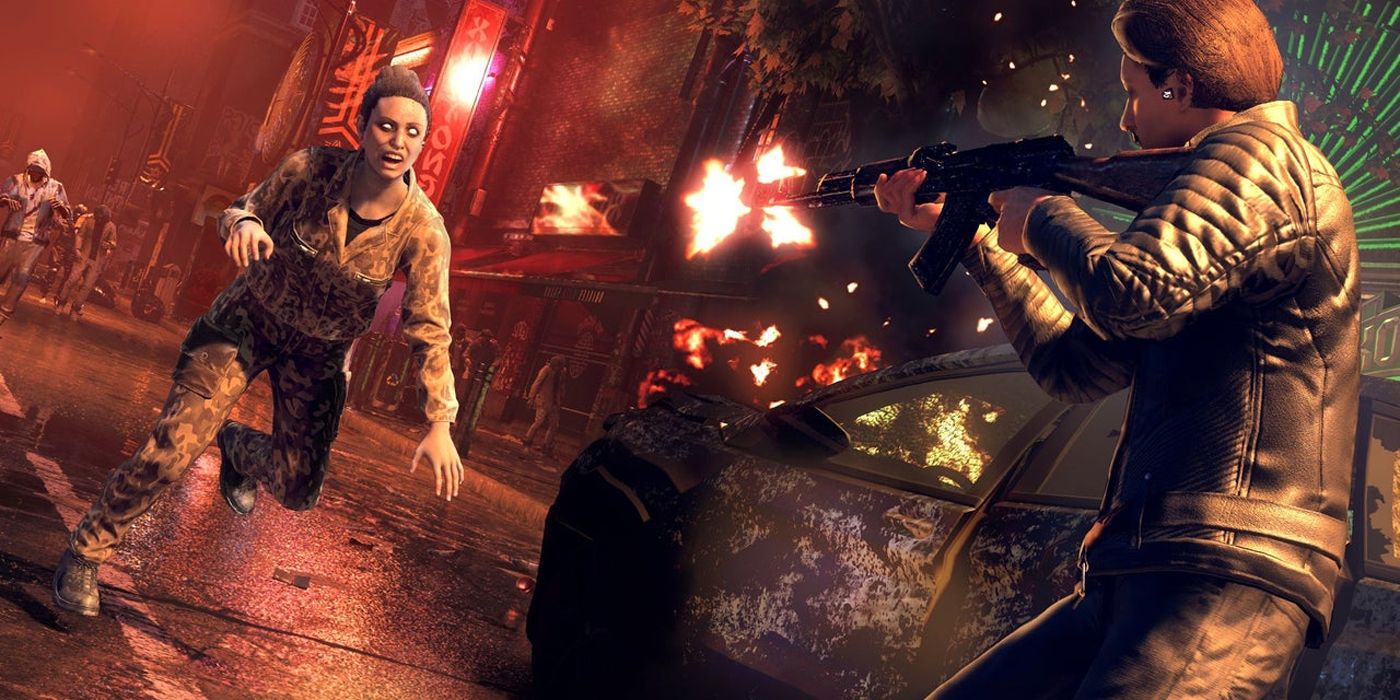 Watch Dogs: Legion Title Update 4.5 brings a zombie-themed multiplayer PvE mode to the game, titled Watch Dogs: Legion of the Dead.
Watch Dogs: Legion is getting a zombie mode as a part of the game's upcoming update, turning the dystopian open-world game into an undead-themed PvE roguelite for up to four players.
The DLC update, titled Watch Dogs: Legion of the Dead, will be a part of the game's Title Update 4.5, which arrives on June 1. The game mode will be released as a public alpha, meaning it will continue to see updates and changes based on community feedback as players take on zombie-ridden London. In an interview with IGN, Watch Dogs: Legion online director Jean-Pascal Cambiotti shed some light on the inclusion of the new mode in the normally hacker-themed stealth action-adventure game.
RELATED: Borderlands 3: Crossplay Is Almost Here for All Platforms… Except PlayStation
https://www.youtube.com/watch?v=ygFRz8VkuL4?feature=oembed
"The design strategy on Watch Dogs: Legion of the Dead was to expand on existing systems and flip them on its head – like creating a rogue-lite approach with Watch Dogs: Legion's unique gadgets," said Cambiotti. "We want to keep an open line of communication with the community and see where they want to take the game mode next." Cambiotti stated that the development team was inspired by the "multiple portrayals of zombies across popular culture" and that they made the decision to make the zombies slower, but lethal. "I think there's something inherently fun about playing with zombies, beyond the instant gratification of destroying them," he said.
Cambiotti went on to suggest that the metric of success for the mode is if players are engaged and creative with how they play. "We want players to have fun using different strategies and feel like there's always something different to try. That's why we're starting small, and plan to update the game frequently so we can react to things like adjusting the difficulty level based on the feedback we get."
RELATED: Ubisoft to Show Off Far Cry 6 on PS4 and Xbox One to Avoid Cyberpunk 2077's Mistake
Title Update 4.5 will also add a Performance Mode to the game, allowing for 60 FPS gameplay for those on PlayStation 5 and Xbox Series X|S. Furthermore, it will bring cross-generation multiplayer (meaning PS5 owners can play with PS4 owners and Xbox Series X|S with Xbox One), bug fixes, a second Tactical Op titled "Project OMNI" and the inclusion of the free operative Helen, who fans may recognize from the game's initial reveal.
The update is a part of Watch Dogs: Legion's updated roadmap, which sees Title Update 5.0 being released in early July and a future update in August. Title Update 5.0 adds the story expansion Watch Dogs: Legion — Bloodline and brings Watch Dogs protagonist Aiden Pearce and Watch Dogs 2's Wrench to the game as playable characters. The August update will bring an Assassin's Creed crossover and PvP modes Invasion and Extraction, both of which were originally slated for Title Update 4.5.
Developed by Ubisoft Toronto and published by Ubisoft, Watch Dogs: Legion is available on PlayStation 4, PlayStation 5, Xbox One, Xbox Series X|S, Google Stadia, Amazon Luna and PC.
KEEP READING: What Watch Dogs: Legion's First Major Update Adds
Source: IGN
My Hero Academia: The Strongest Hero Is Already Risking Alienating Its Playerbase
About The Author


This news is republished from another source. You can check the original article here