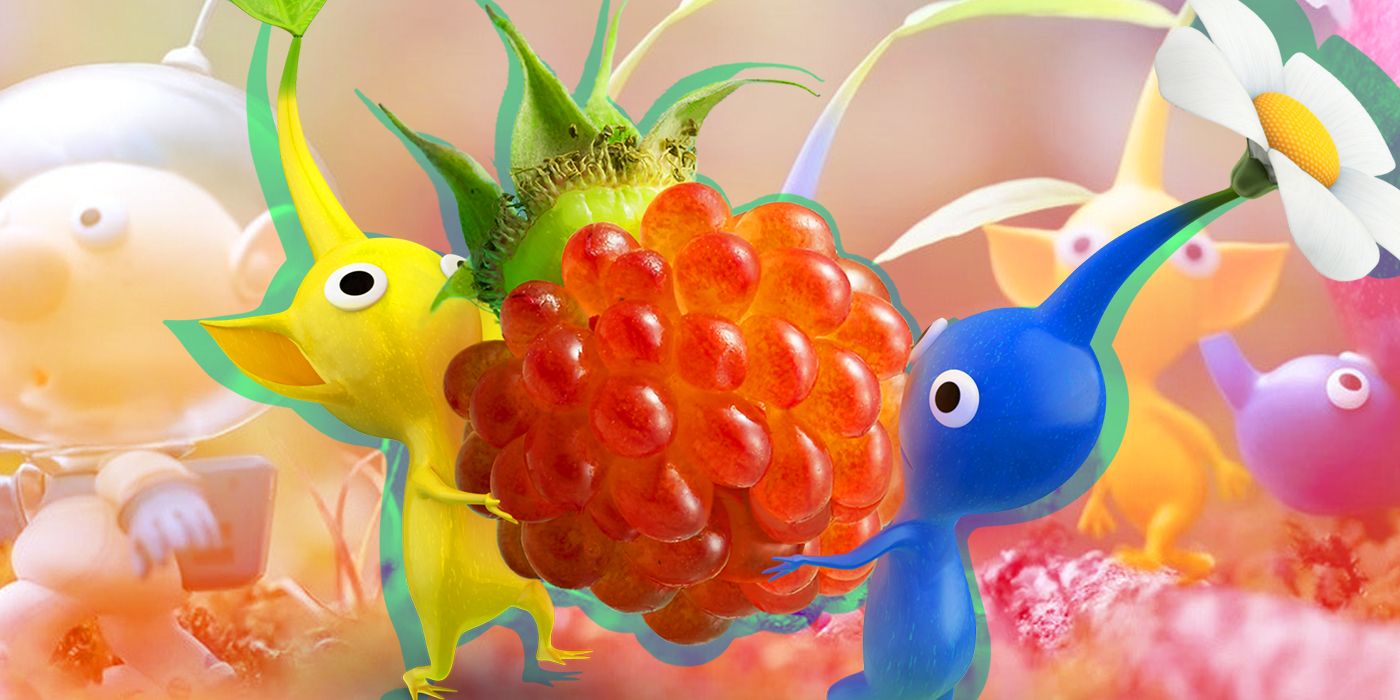 This year marks the 20th anniversary of Nintendo's Pikmin franchise and its armies of pint-sized flower folk. Here's how it should celebrate.
Niantic, the developer of the hit mobile game Pokémon GO, announced it was developing a new mobile game in partnership with Nintendo based on its underrated video game franchise Pikmin. The announcement comes as the franchise reaches its twentieth anniversary this year, following its debut on the GameCube in 2001. And while Nintendo has not announced any anniversary plans beyond the upcoming AR mobile game, the venerable video game company could go all out to further commemorate Pikmin's anniversary throughout the remainder of 2021.
Pikmin follows astronaut explorer Captain Olimar, who crash-lands on an unknown planet and grows plant-based creatures known as Pikmin to help him recover parts of his broken spaceship. Commanding his Pikmin, Olimar needs them to make repairs before his air supply runs out.
Continue scrolling to keep reading
Click the button below to start this article in quick view.
RELATED: Nintendo Switch's 12.0 Update Seems Minor, But It May Hint at MAJOR Features
In addition to the different colored Pikmin, each possessing their own abilities and traits, the world is populated by gigantic monsters who will devour any of the minuscule creatures if Olimar fails to command them to swarm targets or find cover before nightfall. Souvenirs, such as bottle caps and keys, suggest Olimar is tiny in comparison to humanity, hinted at being Earth with stranger flora and fauna.
While Nintendo has since ported 2013's Pikmin 3, originally released for the Wii U, to the Switch, the first two GameCube titles and the 3DS' Hey! Pikmin are stuck on old hardware. The original games were ported to Wii U in 2016, but have yet to join Pikmin 3 since its arrival on the Switch in October 2020. And while a Switch port to complete the trilogy (potentially alongside Hey! Pikmin) seems like a bit a no brainer, the ultimate way to commemorate Pikmin's 20th anniversary would be an even more momentous surprise: the long-awaited launch of Pikmin 4.
In 2015, franchise creator Shigeru Miyamoto revealed that a fourth Pikmin game was in development and nearing completion. Two years later at E3, Miyamoto reiterated that a fourth Pikmin game remained in development, with production progressing — but there's been no word on the title since then.
RELATED: These Two Nintendo E3 Moments Are Iconic, for Better AND Worse
A lengthy development cycle on a Pikmin game is not a first for the franchise or Nintendo. While formally announced it in 2008, Pikmin 3 was not released until 2013, with development prolonged as the team switched from planning the title for the Wii's hardware to accommodate the Wii U instead. Since Pikmin 4's announcement, Nintendo has successfully launched the Switch, meaning the game could be delayed for similar reasons to its predecessor.
Also, while critically acclaimed, Pikmin has never been quite a commercial success. Pikmin 3 Deluxe on Switch, the franchise's highest-selling title to date, has sold less than two million copies. Niantic's mobile game could be a crafty way to build brand awareness ahead of Pikmin 4's potential launch later in the year.
Nintendo has largely remained mum on possible plans for the numerous anniversaries several of its flagship franchises are hitting this year, and Pikmin is certainly included in that. Hopefully, the long wait for the latest installment in the ant-sized franchise will result in its biggest release yet, and (alongside the mobile game) Pikmin 4 will give this series the success it deserves.
KEEP READING: The Limited-Release Nintendo Switch Game That SURVIVED March 31
Where to Find All the Sega Arcade Games in Judgment
About The Author


This news is republished from another source. You can check the original article here