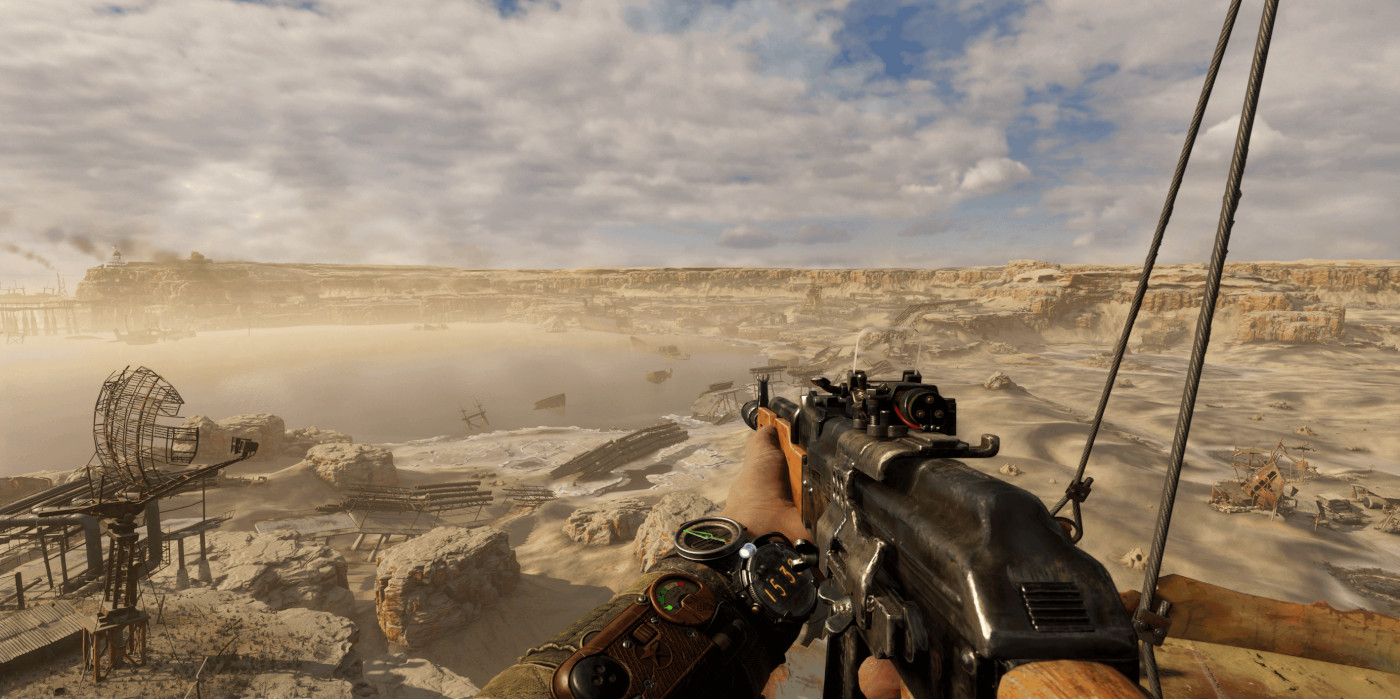 A new rating for Metro Exodus by a Taiwan ratings board reveals some details on the game's upcoming update for PlayStation 5 and Xbox Series X/S.
A rating for post-apocalyptic shooter Metro Exodus on PlayStation 5 and Xbox Series X/S has appeared via a ratings board in Taiwan. The rating likely points towards a release date of Metro Exodus's next-generation update coming sometime soon.
Leaks coming from ratings boards are not uncommon. Just earlier this month, a new Super Monkey Ball title possibly leaked from an Australian ratings board, and while they are not always accurate, Metro Exodus' seems more likely, as Developer 4A Games announced the update back in February. 4A Games has remained quiet on the update since, but the new rating does reveal some details on what players can expect.
RELATED: Biomutant Trailer Reveals Characters and Diverse Locations
According to the developer's announcement of the update, the new versions of the game will run with 4K resolution and at 60 FPS on both PlayStation 5 as well as Xbox Series X. Xbox Series S players can expect to play at 1080p at 60 FPS. Impressively, the update will also see the consoles enjoying full ray tracing throughout the entire game. Metro Exodus' ray tracing in the PC version implemented an innovative Ray Traced Global Illumination system that lit the open-world areas across the game, and it will be delightful to see that system come to Metro Exodus on consoles.
The next-generation update will also bring console-specific improvements to Metro Exodus. The Xbox Series X/S versions of the title will feature spatial audio and controller latency improvements, while for PlayStation 5 the developers say Metro Exodus will take advantage of the DualShock's haptic feedback features.
Across all of the consoles, Metro Exodus will also have faster load times thanks to the consoles' SSD storage, as well as full 4K texture packs. The update looks to be quite the improvement for Metro Exodus fans who have waited for the title to launch on next-generation hardware, and it including all of the game's DLC will also make it a good jumping-on point for new players as well.
While it is possible that the ratings board leak may not lead to an upcoming announcement of the update's release, it seems plausible. The developers originally announced an aim for the update to release in Spring 2021, so it seems likely that the developers met their goal deadline for the update. With any luck, fans will get some news on the next-generation versions of Metro Exodus soon, and hopefully, there will be some news as to the series' future at this year's digital E3 event this June.
Metro Exodus is available now for PC, PlayStation 4, and Xbox One with PlayStation 5 and Xbox Series X/S versions in development.
MORE: Metro Exodus: Where To Find A Teddy Bear & Guitar
Source: Twisted Voxel
Ratchet and Clank: Rift Apart's Female Lombax Name Revealed


This news is republished from another source. You can check the original article here