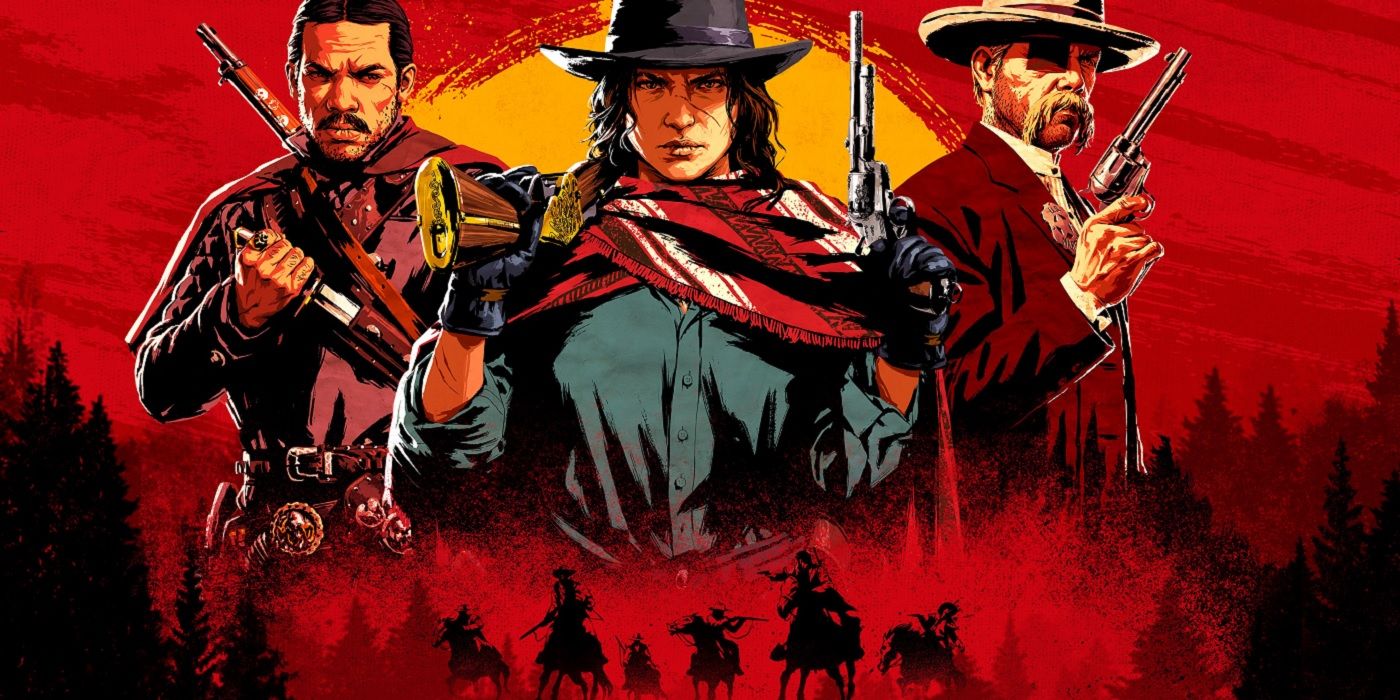 The potential for Red Dead Online to come to PlayStation 5 and Xbox Series X is a huge opportunity for the live service game.
On November 11, Rockstar Games will once again be re-releasing Grand Theft Auto 5 and its online component, Grand Theft Auto Online, which first launched in 2013. Rockstar Games has done a great job of extending Grand Theft Auto 5's lifespan, first by porting it to PlayStation 4 and Xbox One with some big enhancements, then by doubling down on GTA Online and supporting it with an endless stream of new content.
While some fans may rather see Rockstar focus on Grand Theft Auto 6 instead of re-releasing GTA 5 again, there's no denying that the game will benefit from being ported to PlayStation 5 and Xbox Series X. The Grand Theft Auto 5 next-gen port will also mark the standalone release of GTA Online, allowing gamers to jump in to the specific GTA 5 experience that most appeals to them, and should prove to be the definitive way to experience the game.
Continue scrolling to keep reading
Click the button below to start this article in quick view.
RELATED: Wife Gets Quick Lesson in Brutality of Red Dead Online
Of course, Grand Theft Auto Online isn't the only live service that Rockstar is currently working on. Rockstar also has its Red Dead Online game as well, which is the online multiplayer component for Red Dead Redemption 2. Red Dead Online hasn't seen quite as much support as GTA Online, but there's no reason that can't change, and just as Rockstar extended GTA Online's life by bringing it to new consoles, it can do the same with Red Dead Online.
A Red Dead Online PS5, Xbox Series X Upgrade Is A Second Chance at A First Impression
When Red Dead Online first launched, it was not without its issues. As some fans may recall, Red Dead Online's early days were plagued by technical problems and for its in-game economy, which seemed balanced in a way to force players into purchasing microtransactions if they truly wanted to have any fun with the game. This combined with Red Dead Online's notorious griefing problems caused many players coming to it from the single-player campaign to be underwhelmed and disappointed in their experience.
It's safe to say that there are players whose first impression of Red Dead Online left a bad taste in their mouth, and so they didn't return to the game. However, these players may be enticed to give Red Dead Online a second chance if it means trying it out on the PlayStation 5 or Xbox Series X. After all, there have been numerous Red Dead Online updates since the game's initial launch in 2018, and that combined with the added horsepower of the new console would put the game in a much better position to impress fans than it was at launch.
New Content for Red Dead Online
Red Dead Online's proper next-gen debut could be a chance for Rockstar Games to release some more substantial new content for the game, making it worthwhile for lapsed players to give it another look. As illustrated by Grand Theft Auto Online's Cayo Perico Heist update, it's never too late for Red Dead Online to get more content, even if that content comes years after the game's launch.
If Rockstar Games does decide to release a PS5/Xbox Series X version of Red Dead Online, new DLC would be the perfect way to commemorate the occasion. While that DLC could take pretty much any form, there is one expansion that fans of the game may be especially excited for. As some may already know, there have been Red Dead Online players glitching into an area of the game world that they aren't supposed to be able to access, and that area could be perfect for DLC.
Red Dead Online's Mexico area would be the perfect place to start for a DLC expansion. It would give Red Dead Online players a brand new area to explore besides the existing map, which should bring back lapsed players as well as invigorate the existing playerbase. Not only that, but it would also give Rockstar Games the perfect opportunity to introduce new characters to Red Dead Online along with some new story content and missions that could potentially address some of the complaints fans have had about the existing game's missions.
Red Dead Online Next-Gen Features
Even if Rockstar Games doesn't add substantial new content to Red Dead Online, a PS5 and Xbox Series X port would still be worthwhile for other reasons. A big one would be the enhancements that the next-generation consoles would bring to the table in terms of general performance as well as graphical output. A Red Dead Online PS5 and Xbox Series X upgrade could up the resolution and frame rate, resulting in a more impressive-looking take on the game.
Red Dead Online on PS5 in particular would be exciting because it could take advantage of that console's unique controller. The PlayStation 5 DualSense controller's haptic feedback and other features could easily enhance the Red Dead Online experience, and so hopefully a proper next-gen port materializes some day. In the meantime, Red Dead Online fans can still play the last-gen version of the game on their new consoles if they so desire.
Red Dead Online is out now for PC, PS4, Stadia, and Xbox One.
MORE: Red Dead Online: All The Rifles & Repeaters, Ranked
Assassin's Creed Valhalla Siege of Paris DLC Map Leaked
About The Author


This news is republished from another source. You can check the original article here