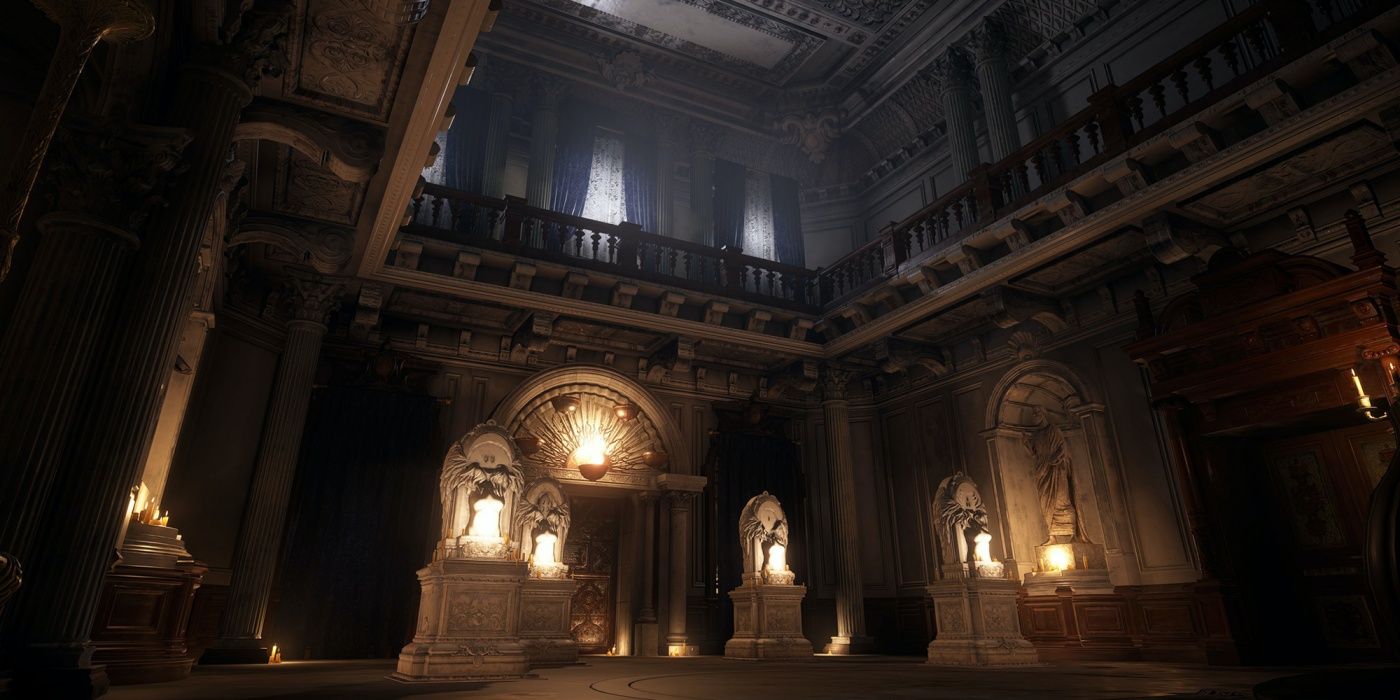 A new video shows that Resident Evil Village's Castle demo loads 10 times faster on PlayStation 5 compared to the PlayStation 4 version.
A new comparison video of the Castle demo shows that Resident Evil Village on PlayStation 5 loads roughly 10 times faster than its PlayStation 4 counterparts. Digital Foundry's analysis of the Village demo previously revealed how much better the latest Resident Evil entry runs on current-gen hardware.
Naturally, the base model of the PS4 struggled the most, running 900p at an uncapped frame rate that too often dropped to the 40s and low-30s. On the PS4 Pro, the Village demo's Performance Mode was shown to maintain 60fps fairly competently, while the high-resolution mode ran 4K resolution at a frame rate that regularly dipped below 40. The PS5 SKU fared far better, of course, as this version's ray tracing-enabled option hit a 4K resolution and mostly managed to maintain 60fps. Meanwhile, turning ray tracing off for PS5 saw the Village demo achieve 2160p at a smooth 60fps. And, as Capcom previously teased, Resident Evil Village's load times on PS5, based on the Village gameplay, were practically non-existent.
Related: Every Returning Resident Evil Character Confirmed For RE Village
YouTuber ElAnalistaDeBits conducted a similar analysis on the recent Castle demo and found PS5's loading times are much faster compared to both PS4 and PS4 Pro. On PlayStation 5, the demo takes about three to four seconds to load, whereas the PS4 Pro version loads in roughly 25 seconds. The base PS4 needs about 26 to 27 seconds before handing control back to the player. ElAnalistaDeBits' other findings seem on par with Digital Foundry's from the previous demo. In terms of performance, turning off ray tracing on PS5 still provides the most stable frame rates, for instance. Ray tracing itself allows for marginal differences with regards to shadows and reflections; thus, players will have to decide for themselves whether the rather subtle improvements are worth the slight hit to performance.
https://www.youtube.com/watch?v=AvbYJsIoF9M?start=242&feature=oembed
The newest consoles truly have transformed loading across the board, though the loss of informative loading screens are what some would consider a drawback. As this console generation wears on, who can say for sure how much the technology will improve in this regard?
While the Village and Castle trials for Resident Evil Village are no longer available on PS5, Capcom recently shared good news for fans across all platforms. The multiplatform demo, which arrives on May 1, won't boast a mere 24-hour window. Instead, players will have eight days to experience the 60-minute gameplay offering.
Next: RE Village Mother Miranda Possible First Full Look Shown In New Trailer
Resident Evil Village creeps its way onto PC, PlayStation 4, PlayStation 5, Xbox One, and Xbox Series X|S on May 7.
Source: ElAnalistaDeBits/YouTube
Resident Evil Village's Demo Has Been Extended From a Day To One Week


This news is republished from another source. You can check the original article here